Providence Canyon with Younger Kids
The History of Providence Canyon
Thoughts from Nadia:
Providence Canyon is a beautiful Georgia State Park. The canyons there were formed by bad farming practices in the 1820s. The hills were deforested, then plowed in rows, but they didn't realize that under the red clay there was just sand. As soon as the rains came, gullies started forming. Within 30 years the gullies were 3 to 5 feet deep! Now the canyons are as deep as 150 feet in some places.
While there are nine canyons to be visited, canyons 4 and 5 are the prettiest and most stunning, so definitely go to those first, especially if you are with young children. The trail head starts behind the visitor center. At the canyon floor, turn left. The floor of the canyon is sandy and has some small, mostly shallow, streams of water. The trek into canyons 1,2, and 3 are even wetter and longer. Be prepared to get your shoes wet and sandy. There is a shoe scraper at the visitor center to clean your shoes off at the end. Canyon 5 has white walls, and pink and green striations. A man discovered that there are 43 different colors of sand in the canyons! There are several crevices in the walls that can be entered. One had pretty purple walls and entering it reminded me of when the Pied Piper of Hamelin takes the children into the mountain.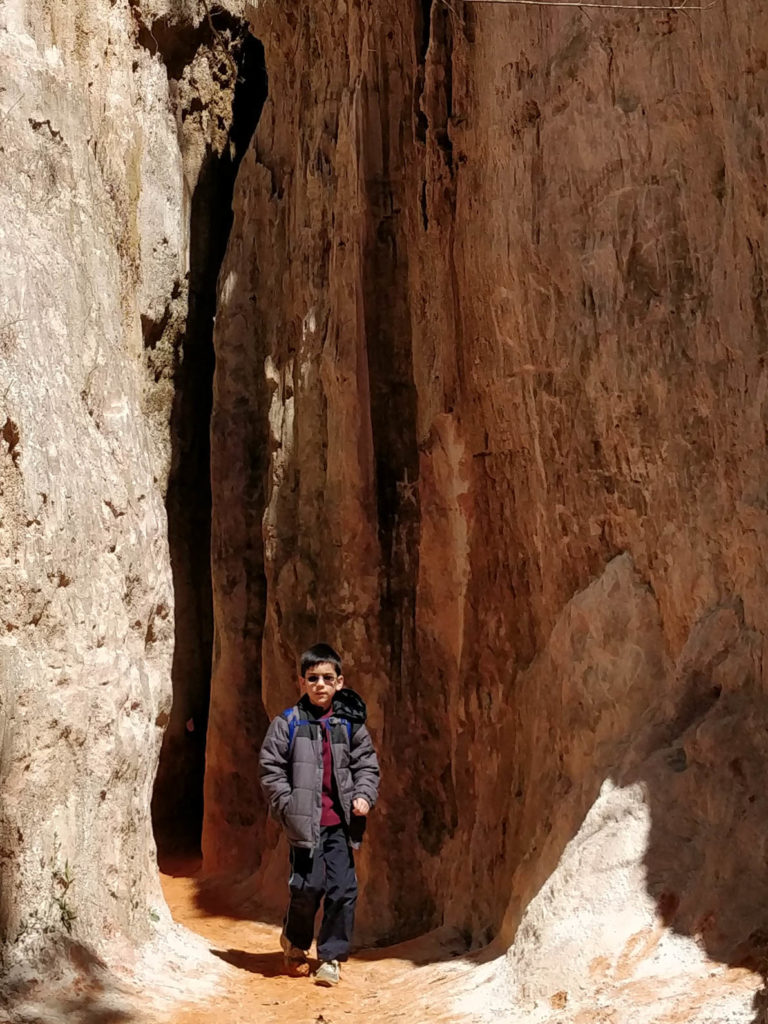 Providence Canyon was named for the Providence Methodist Church that was built in 1832 where canyon 2 now is. In 1859, the church was relocated because the land was eroding right from beneath it.
Where to find Providence Canyon and Where to Stay
Thoughts from Julie:
We weren't sure how long we would need in Providence Canyon. Providence Canyon is located in Lumpkin, Georgia, which is about 2 hours from where we live. While this potentially could be a day trip, we weren't sure how long the hike would take with a toddler in tow. You can hike in to campsites right in the canyon. You can also camp at the Florence Marina State Park campsite. We did visit Florence Marina and were impressed with the nature center there. We own no camping gear; consequently, camping was not an option for us at this time. We ended up staying at an Airbnb right on Lake Eufala, in Georgetown, about 45 minutes away.
Although we enjoyed our mini vacation and created wonderful memories, if I could do the whole trip over, I would just make us get up early and visit as a day trip.
What You Need to Know Before Going
Wear comfortable shoes. I love my Keen sandals. Be prepared to get wet and muddy (but we were so prepared that this felt very minor and we really didn't get that wet).
This site really explains the whole hike well, but if you are going with young kids or you don't feel like hiking the entire 5 miles, just hike down to the canyon floor, explore canyons 4 and 5 and meander down there as long as you like, then head right back the same way you came down to head back to the visitor center. You don't need to hike the whole rim.
There are two playgrounds at the top of the canyon, across the road from the church. There are some great viewpoints right near there. You can park right by the playground, because the walk from the visitor center, isn't that far, but after walking all around the canyon floor, we were done with walking. It was funny though how the kids suddenly had enough energy to run and play on the playground! Don't forget to visit the cemetery and ponder the tombstones.
Why You Really Need to Visit Providence Canyon
Thoughts from Javi:
Even if you see a thousand photographs of it, it will never be the same as experiencing it. When I walked down there and looked up from the bottom at the walls of the canyon, so high above me,  I felt awed that water and wind can erode the earth and create these amazing formations. We could see all these striations of sand and could glimpse the "inside" of the earth. Everyday we walk around on the ground and never even think about what is under our feet. Being at Providence Canyon provided a bit of insight. Lastly, each of us kept exclaiming, "This is so stunning! Imagine what the Grand Canyon must be like!" We've never been to the Grand Canyon and now we definitely have moved it up near the top of our wish list.
Disclaimer: Links in this post are affiliate links. If you use the links and make a purchase, our family will earn a commission. We will always only link to businesses and products we use and love.