A Look Through Peggy's Cove
One of the places I was most excited to see on our trip through Nova Scotia was Peggy's Cove. I had received a book about it several years ago, and I imagined it as a fierce, wild place, where the sea lashed with terrifying force at rough hewn rocks.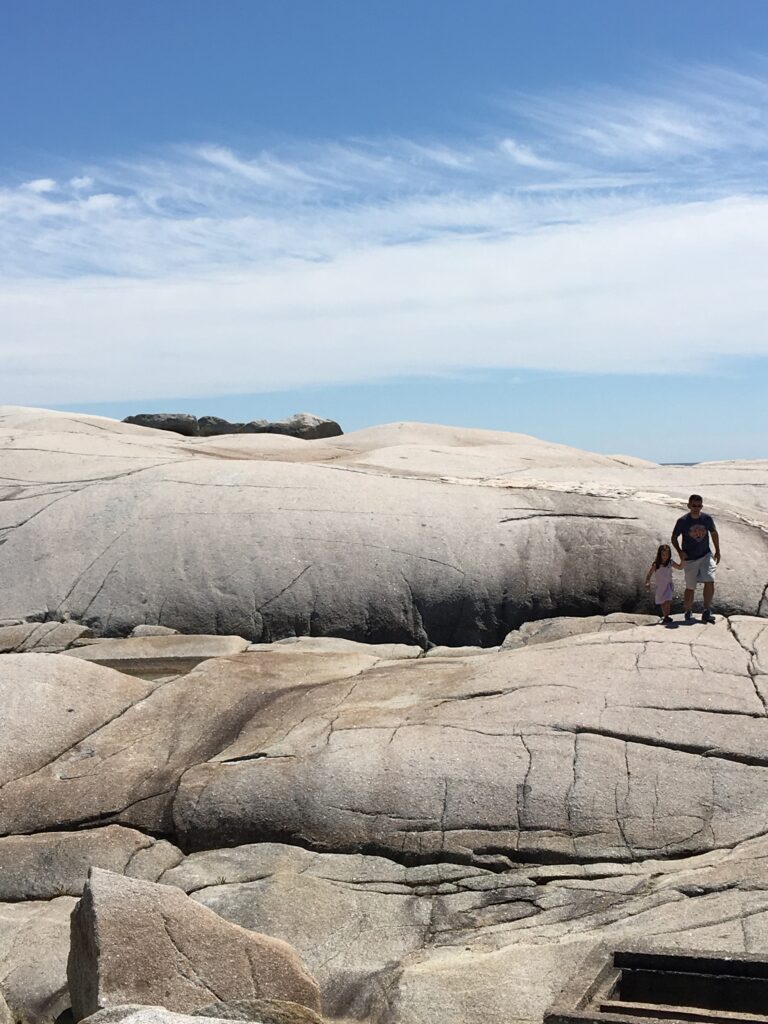 We parked far, and as we walked down from the parking lot, I was dismayed. Small, bright colored huts selling souvenirs and ice-cream squatted by the path. Colorful food trucks, full of seafood fare, displayed their wares flamboyantly alongside. As I was trying to reconcile my idea of what I had though Peggy's cove would look like to the reality of it, I saw the lighthouse. But besides the stocky white tower sporting a red cap, nothing else was how I had thought it would be. The sea was calm, with nothing but few ripples. The sky was a clear blue, not the stormy grey I had imagined.
Around the curve in the path the lighthouse clung onto the edge of the rocks, precariously perched along the pillow rocks behind it. The sky bent down to meet it. The rocks were huge, worn and smooth, split by shadowy cracks. We clambered over their ridges as wind whipped bits of spray over them.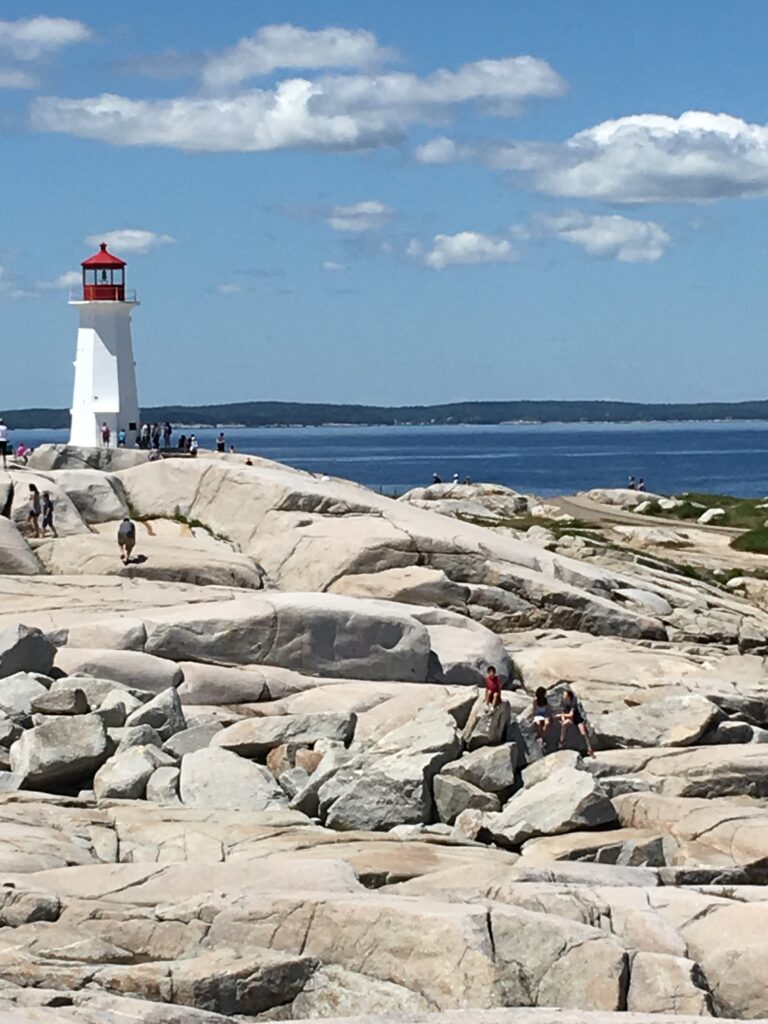 As we climbed the huge pillow-like rocks, we discovered little Inukshuks. We built a tiny structure that looked as if it would topple with the next blast of wind. As I looked back over to the lighthouse, the people walking about it looked so fragile compared to the rocks. The expanse of sky made everything look smaller.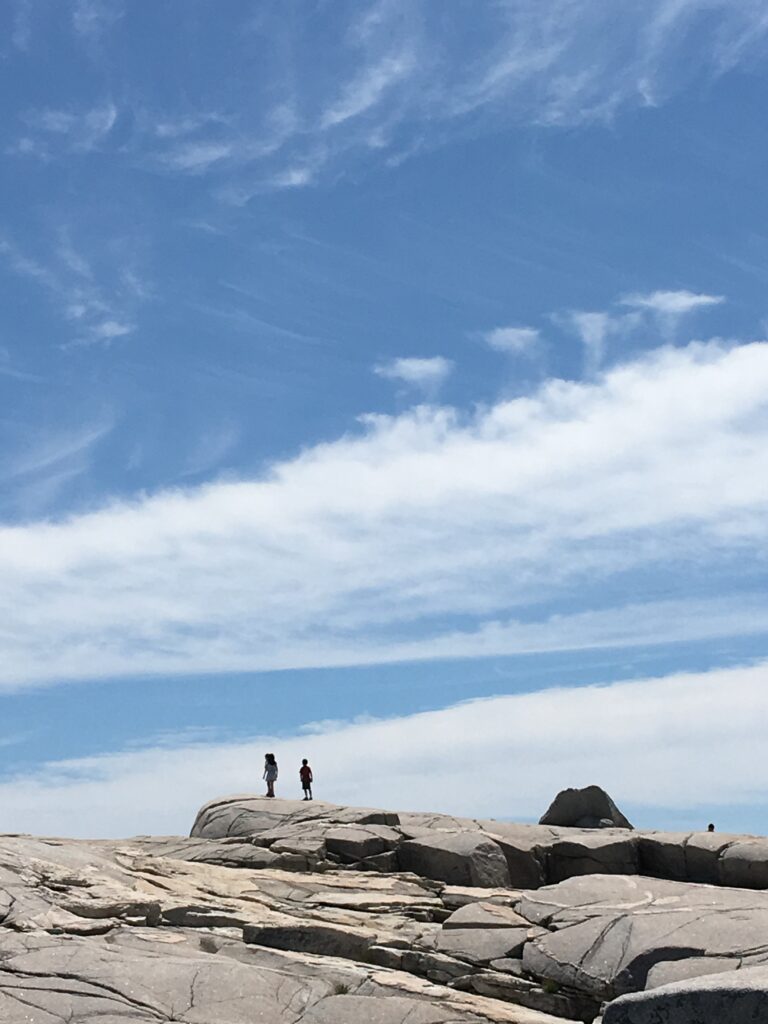 Skirling bagpipes played as we walked back towards the giftshop and restaurant, and we stopped to listen. We could still hear the rich sound as we entered.
As I wandered around the gift shop, I amused myself flipping through a thin little book of 'Nova Scotia Slang'. In it I discovered that a 'scribbler' was a notebook and that 'twirly teet' meant 'too early to eat'.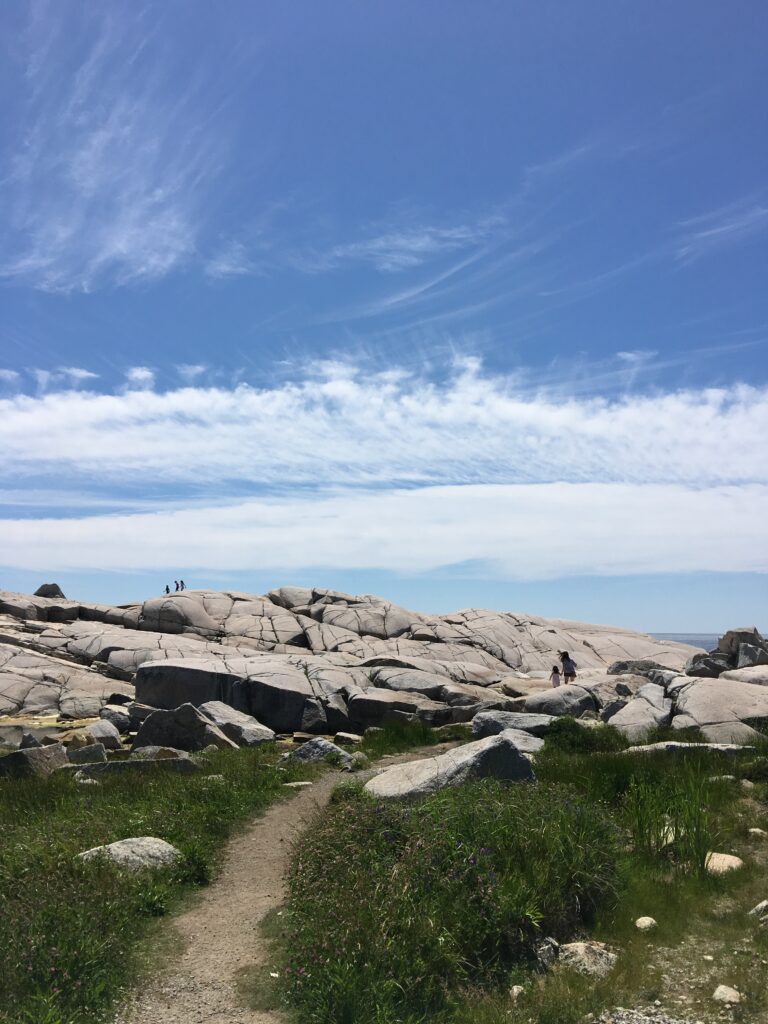 As we walked down the sidewalk to the car park, I looked back at the wide, bright sea, spread out below the lighthouse. The wind blew us forward, and Peggy's Cove swept out of sight as if it was riding a swell on the ocean.